Dr. Marc Schlossberg, at the University of Oregon has been conducting research on the use of mobile GIS devices to improve the quality of life for communities.  The tools he has created include:
School Environment Assessment tool (SEAT)
Complete Streets Assessment tool (CSAT)
Accessibility Audit Tool (AAT)
Bicycle Assessment & Safety index tool (BASIT)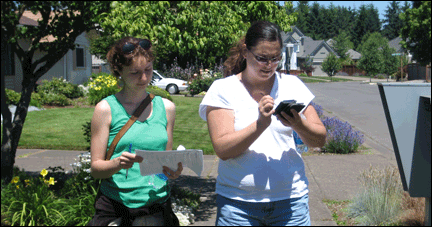 These ladies are using Dr. Schlossberg's tools to conduct a safety audit.
These projects are aimed to fill the gap between average citizens and the GIS mapping technology in hopes to engage communities in the understanding of their environment.  The most widely tested of the tools is SEAT, which helps identify safe routes to schools.  Below is the assessment of walkability around Roosevelt Middle School, using the tool SEAT.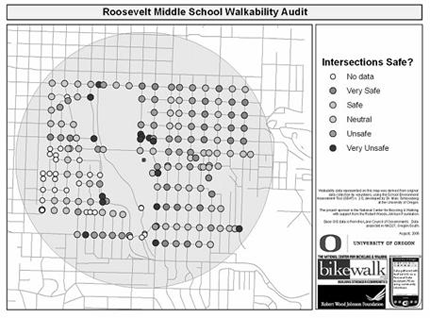 The mapping was done by the parents of the students at the school and it helped them assess which intersections were of concern.  Dr. Schlossberg's goal is to use these tools as a catalyst for communities to seek engineering based improvements, such as constructing side-walks or encouragement-based improvements like walking to school.
For a link to the full article, click here.
Sandy Cao, VERTICES Intern
Community Mapping Intern
Center for Community Mapping